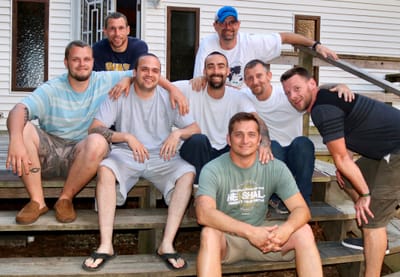 Jumpstart Ministries' primary purposes are to help men with drug and alcohol addictions turn their lives around pointing them to Jesus Christ, our Lord and Savior and to establish a good work ethic. We believe that no matter how far a person may go down the wrong road, with Christ, anything is possible.
How The Ministry Began
Jumpstart Ministries was started because of the growing need to help those involved in drug and alcohol abuse. When the drug addict and alcoholic are caught, convicted and sentenced to jail, only a small percentage are truly helped by this experience. Prison life is intended to rehabilitate criminals, instead quite the opposite occurrs and those jailed actually learn how to become better criminals.
Ray Brandon, Jumpstart Ministries' founder and director, recognized the crucial need to help those trapped in their life-styles of addictions. And having worked in the Arkansas corrections field for many years, Ray has seen first hand what happens to those that end up in the prison system. He was moved to act by a strong calling to minister hope and purpose to these men and their families. Jumpstart Ministries began out of the home of Ray, and his wife Becky, by taking in and discipling just one addict seeking a lasting change.
About The Ministry
Jumpstart a 501(c)(3) nonprofit organization, that is a Christ-centered, long-term residential program that provides a safe and clean environment where our residents can experience steady progress and learn God's great plan for their lives. Our program is open to anyone who is willing to make a commitment for change. Jumpstart Ministries is self-funded by our residents with various factory and construction projects throughout the community. The work program is multifunctional and our goal is to prepare each resident to be employable once they graduate the program. We assist residents with driver's license reinstatements, obtain social security cards if needed, as well as establishing structured repayment plans for their fines and child support. This unique aspect of our program enables us to offer hope and help to those who need it most by integrating our residents back into society so that they can live drug-free and successful lives.
Drug and alcohol abuse have become two of the biggest problems facing society today, it consumes over a million people a year. There is no age limit to substance abuse and without God's help and guidance we cannot prevail. Thankfully, there are no situations too difficult that God cannot intervene - no life too lost that cannot be saved.